The Loomis Chamber of Commerce and Gold Country Media Discover Loomis June 2021 publication includes an article on our club on page A-44 and an advertisement on A-23.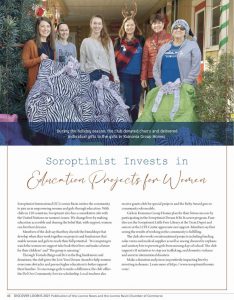 Soroptimist Invests in Education Projects for Women
Soroptimist International (SI) Loomis Basin invites the community to join us in empowering women and girls through education. With clubs in 120 countries, Soroptmist also has a consultative role with the United Nations on women's issues. We change lives by making education accessible and sharing the belief that, with support, women can live their dreams.
Members of the club say that they cherish the friendships that develop when they work together on projects and fundraisers that enable women and girls to reach their full potential:  "It is inspiring to watch the women we support take back their lives and make a future for their children" and "The group is amazing."
Through Tostado Bingo and It's in the Bag fundraisers and donations, the club gives the Live Your Dream Award to help women overcome obstacles and pursue higher education to better support their families. To encourage girls to make a difference, the club offers the Del Oro Community Service scholarship. Local teachers also receive grants club for special projects and the Ruby Award goes to community role models.
Girls in Koinonia Group Homes plan for their future success by participating in the Soroptimist Dream It Be It career program. Families use the Soroptimist Little Free Library at the Train Depot and seniors at the LIFE Center appreciate our support. Members say that seeing the results of working in the community is fulfilling.
The club also works on international projects including funding solar ovens and medical supplies as well as sewing dresses for orphans and sanitary kits to prevent girls from missing days of school. The club supports SI initiatives to stop sex trafficking, end domestic violence and assist in international disasters.
Make a donation and join us in positively impacting lives by investing in dreams. Learn more at https://www.soroptimistloomis.com/.