Press Release For Immediate Release
Contact: Soroptimist of Loomis Basin
Karen Fraser-Middleton
Marketing Action, Inc., 916-652-0993
Loomis Soroptimist Club Wins Membership Award
June 12, 2015 (LOOMIS, CA) – Soroptimist International of Loomis Basin (SILB) won the "Blanche Edgar Award for Extension" for having the greatest percentage of membership growth and retention in the Soroptimist International Sierra Nevada region during the nine months from July 1, 2014 to March 31, 2015. The region represents 1800 members in 58 clubs located from Sacramento north to Yreka and almost all of the state of Nevada. The award was established in 1961 to honor Blanche Edgar who organized 103 clubs in the region and other locations for Soroptimist International of the Americas.
Currently there are 42 members in the Loomis club who work together on local and international projects that enhance the lives of women and children. New members who joined after July 1, 2014 include Randi Beasley, Linda Bledsoe, Sharla Caves, Marianne Coombs, Patricia Green, Sandra Hayter, Linda Lawrence, Lisa Musso-Markey, Sharon L. O'Donnell, Melanie Palmquist and Erika Rotchford.
Sharla Caves, Financial Advisor, Edwards Jones, was thinking about joining Soroptimist when several of her clients told her how much they enjoyed being members. "I liked the idea of supporting women and contributing to our community," said Caves. "Since joining, I've made new friends and helped with events such as serving St. Patrick's Day lunch at the senior L.I.F.E. Center. It is a lot of fun, the women in the club are so welcoming and I'm impressed with how the group works together to make a difference."
Randi Beasley, Outreach Coordinator, Wellness Within, says that she enjoys the camaraderie of the women in the club. "I love the power of women working together to make things happen in our community," said Beasley.
Erika Rotchford, Compliance Team Lead, Big Valley Mortgage, is the third generation of her family to join the SI Loomis club. "I have witnessed firsthand the good that Soroptimist does for the community," said Rotchford. "I enjoy the friendships and business relationships that have developed. Because it is a 'no guilt' club, you don't have to worry if you have a conflict and miss a meeting or event. We all care about each other, take care of one another and work as a team to support our mission."
Melanie Palmquist, Branch Manager, US Bank was a charter member of Soroptimist International of the American River. After taking the position with US Bank in Loomis, she joined the local club. "I was originally attracted to Soroptimist for the opportunity to network with positive, dynamic and like-minded business women," said Palmquist. "I enjoy working together to improve the lives of women and girls while building lifelong friendships."
The SILB club decorates dorm rooms at Sierra College for former foster youth, provides grants to teachers, supports the Loomis L.I.F.E. Center for seniors, offers scholarships, contributes to the Red, White & Blue Dance honoring veterans, participates in the Loomis Thanksgiving parade and Easter Egg hunt, and is involved in many other local projects. The club has also contributed to solar oven, water filtration, digging new water wells and other international projects that benefit women and children.
To raise funds to support these projects, the club serves drinks at the Loomis Family Fest in the summer, hosts Tostado Bingo in March and holds the "It's in the Bag – the Ultimate Girl's Night Out" designer purse event in January.
To learn more about Soroptimist International of Loomis Basin, visit https://soroptimistloomis.com/, check out our Facebook page or contact Peggy Word, president at
(916) 837-6106.
Soroptimist (soroptimist.org) is an international volunteer service organization for women who work to improve the lives of women and girls, in local communities and throughout the world. Soroptimist International of Loomis Basin is a 501(c)(3) organization.
# # #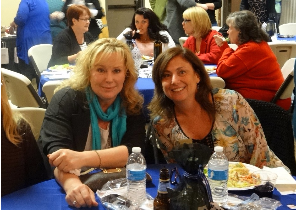 Randi Beasley (R) with her friend Jodi Willard (L) enjoying the SI Loomis designer purse fundraiser.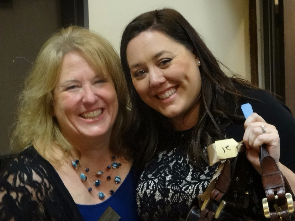 (LtoR) Soroptimist members Chris Hebard and Erika Rotchford at the It's in the Bag – the Ultimate Girl's Night Out fundraiser held in January.
Courtesy: Karen Fraser-Middleton