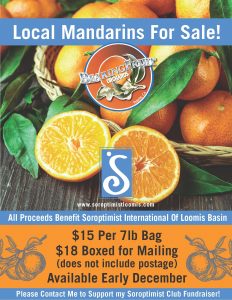 Whether you want to send a taste of home to family and friends or distribute a unique gift to your clients, friends or service providers, the Loomis Soroptimist club has you covered.
Thanks to our member, Terry, the club is selling bags and boxes of mandarins grown by her family at Bearing Fruit orchards in Penryn.
A seven pound bag of mandarins is $15 or get the mandarins specially packed in boxes for $18 ready for an address label and postage. The fruit will be ready in early December.
Contact our club members or email cyndiefoot@aol.com if you'd like to order these delicious locally grown holiday treats. Indicate how many bags and boxes you'd like.