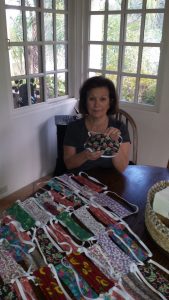 Our club is sewing Masks 4 Millions and they are being distributed to local hospitals by @DaysForGirlsRocklinCaTeam
We are in need of elastic for the Masks.  If you have 1/4″, 3/8″ or 1/2″ flat elastic that you can donate, please mail it to:  Loomis Soroptimist P. O. Box 1141, Loomis, CA 95650.
Elastic can also dropped in the mail box at:  Loomis Self Storage on the door near the entry gate at 5950 Jetton Lane, Loomis or
JC Bookkeeping & Financial Services, box on the left side of the building by the door at 5985 Horseshoe Bar Rd, Loomis.
Thank you in advance for your help!