Our club is adding to the "We Love Loomis" campaign by sewing cloth masks for our community.  After sewing Masks 4 Millions for local hospitals, club member Rae DeGabriele suggested our club make masks for community members and help support local businesses.
As businesses open up, the club is contributing to the local economy and community's well being by delivering over 350 cloth masks to several businesses in Loomis.  The masks are individually wrapped and have labels stating: "Stay Safe"  "Compliments of Soroptimist International Loomis Basin." Patrons or employees needing masks may make a donation to club when they take a mask.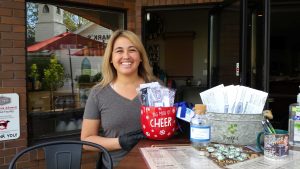 Look for the masks when you support our local businesses:  Ugly Mug, Blue Goose Produce, La Fogata, Foothill Feed & Grain, Reds, High Hand Nursery, Loomis Beauty Salon, Loomis Basin Gastropub and Il Pizzaiolo.