SOLD OUT!
Thank you for your interest in supporting Soroptimist. Unfortunately, we've sold out of all the Easter Boxes.
Sold Out — This cute and delicious Easter gift box includes beautifully decorated home baked cookies and other treats to your family, friends, neighbors and co-workers. This unique gift supports Soroptimist International Loomis Basin education projects.
The Easter Gift Box has sold out. Thank you for your interest.
The $20 Easter box includes:
1. Five decorated Easter cookies
2. Two carrot-shaped cellophane bags filled with candy and snacks
3. One Easter Bunny Duck
4. Cute Bunny Box to hold the treats
Order in advance and pick up your boxes at:
Hebard Insurance, 3837 Taylor Rd, Loomis, CA 95650
March 30, 31, or April 1 (Tuesday-Thursday)
1 – 5 PM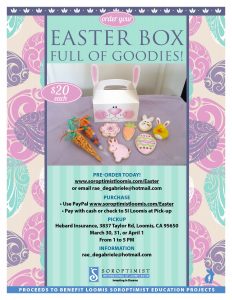 PDF of Easter Flyer