With a commitment to support women's education and recognize other community contributions; Soroptimist International of Loomis Basin (SILB) presented more than $7,500 in community awards on Thursday, February 25.
Live Your Dream Award
The Live your Dream Award supports women in achieving their career aspirations by providing funding for education. Cassandra Harrison of Roseville, a single mother of two children, who works full time and graduated from Sierra College with honors in Child Development, won the Live Your Dream award. She is currently taking classes that will enable her to transfer to a university program this fall.
She has overcome obstacles and stayed focused on her goal of earning her BA in Child Development, according to Sara Schillizzi, Site Supervisor, Loomis Head Start, where Harrison works. "Cassandra is passionate about the children and families we serve," said Schillizzi. "Ever since I've known her, she has been taking night classes in pursuit of her degree. She is very hard working and your financial support will help her reach her education goals."
The Violet Richardson Award recognizes a young woman who volunteers in the community. Taylor Froomin of Loomis, a student at Del Oro High School, who volunteers with Placer TOP Soccer was selected to win the Violet Richardson scholarship. The program is offered through the Placer Youth Soccer League and enables children with disabilities from ages 4-18 to play soccer.
Froomin has volunteered for more than two years according to Dave Hunter, President, Placer TOP Soccer. "Our players look up to her and benefit from her love of the game," said Hunter. "Taylor has amazing patience and positivity. She really has a heart for helping others."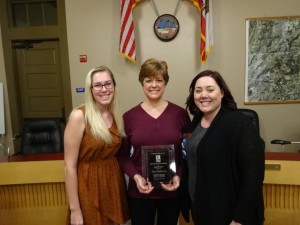 Ruby Award
The Ruby Award for Women Helping Women recognizes those who improve the lives of other women or girls through their professional or personal activities. Terri DuPriest, who impacts, inspires and encourages the young women, and men, in the Del Oro High School Golden Eagle Marching Band's color guard and winter guard, received the Ruby Award.
According to Ben Duncan, Del Oro band director, Terri has helped countless young women. "Terri is an amazing woman who has volunteered literally thousands of hours for the Del Oro Band program," said Duncan. "She cares about the students, tells them what they need to hear, and guides them with honesty and support."
Senior L.I.F.E. Center
SILB helped found the Senior L.I.F.E. Center of Loomis in 1978. Fred & Acsa Hitchen received a grant to continue to provide social and educational activities as well as nutritious lunches to over 80 seniors weekly at the center.
Teacher Grants
SILB created the signature Teacher Grant program to help instructors fund projects that will have lasting impact on students.
Loomis Grammar School — Jenn Tverberg will use the grant to purchase materials for the Loomis Grammar School community garden that delivered over 900 pounds of produce to the Placer County Food Bank last year. Cheri McClaughry plans to buy nine headphone sets so more K-8 students' can work independently without distraction on computer learning programs. Carrie Marovich is selecting captivating fiction and non-fiction books to enhance eighth grade students' reading and writing skills. Janine Brizendine will purchase 3D shapes and structures for hands-on math activities with Kindergarteners. Anne Marie Allbaugh is going to select books that can be matched to students' reading levels as part of an intervention strategy to increase reading fluency among K-8 students.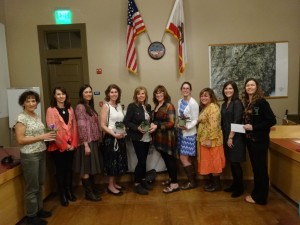 Franklin Elementary School — Melissa Patrick plans a forty book reading challenge and will buy two electronic readers to enhance the quantity of books available to the seventh and eighth graders.
Ophir Elementary School — Susan Doyle will teach nutrition, gardening, food science and living skills to deaf and hard of hearing students in first through third grade with the supplies she purchases to plant a class garden.
Penryn Elementary School — Jennifer Vargas will buy a portable cart and supplies that will make it easier for her to provide additional support to struggling kindergarten through eighth grade students as she moves from classroom to classroom.
Clark Powers Elementary — Kristi Brown and Nicole Van Stralen are creating a listening center for reading and a math center with online math games; they'll be purchasing tables that will enable the first graders to work independently and productively.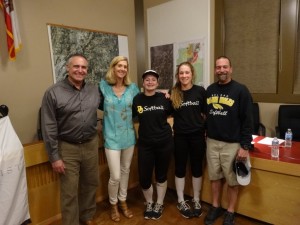 Del Oro High School
The club provided donations to support the Del Oro High School Aquatic Center and Softball Field projects that will be assets to the community.
Donation to Support Soroptimist Projects
At the awards ceremony, Don Mashburn, General Manager for the California Breeze Softball Organization and Board member of Florin Road Bingo, presented a donation of $2500 to the SI Loomis Basin club. The funds will be used to develop education projects such the Soroptimist Dream It Be It Career Support for Girls.
About Soroptimist International Loomis Basin
Soroptimist (soroptimist.org) is an international volunteer service organization for business and professional women who work to improve the lives of women and girls, in local communities and throughout the world. Soroptimist International of Loomis Basin is a 501(c)(3) organization.
To learn more about the club, join SI Loomis Basin for weekly club meetings at the Train Depot at Taylor Rd. and Horseshoe Bar Rd. in Loomis. First and third Wednesday meetings are held at 5:30 PM, and second and fourth Wednesday meetings are held at 8 AM. Learn more at www.soroptimistloomis.com and find Soroptimist Loomis Basin on Facebook.