Find out about human trafficking happening in Placer County from local experts and how to prevent it at the Soroptimist Stop Trafficking Workshop on February 25 in Loomis.
Join us for the Stop Trafficking Awareness Workshop on Saturday, February 25, from 9 a.m. to 12 p.m. This free educational event will be held at the Loomis Veterans Memorial Hall, located at 5945 Horseshoe Bar Rd., Loomis, California. Please RSVP by email to info@soroptimistloomis.com or at Soroptimist Loomis Basin Facebook (@SILoomis) on the Stop Trafficking Awareness Workshop event page. Coffee and check in begin at 8:30 am.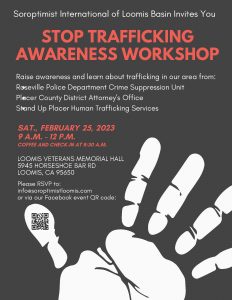 Speakers include Devan Portillo, deputy district attorney, Placer County; Kayla Reeser, human trafficking services coordinator, Stand Up Placer; and  David Tuggle, detective – crime suppression unit, Roseville Police Department.
Trafficking is happening right here in our community, according to Becky Faudree, Stop Trafficking Awareness Workshop co-chair for the Loomis Soroptimist club. "Attendees will learn how pervasive this crime is locally, how to recognize possible trafficking situations and what we can do to stop trafficking," said Faudree. "This educational program will be an eye-opener and we encourage students, parents and community members to attend."
According to the State of California Department of Justice, California is one of the largest sites of human trafficking in the United States. The department defines human trafficking as "a crime that involves compelling or coercing a person to provide labor or services, or to engage in commercial sex acts. The coercion can be subtle or overt, physical or psychological, and may involve the use of violence, threats, lies, or debt bondage."
Sacramento is a hot spot for trafficking on the Polaris Project map of the United States, According to the Polaris Analysis of 2021 Data from the National Human Trafficking Hotline, in 2021 "there were 10,359 trafficking situations reported to the National Human Trafficking Hotline. In those situations, a total of 16,554 likely victims of trafficking were identified."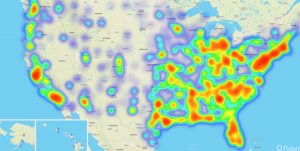 Soroptimist is an international volunteer service organization for women who invest in dreams through education projects that lead to economic empowerment for women and girls, locally and globally. To learn more find Soroptimist Loomis Basin @SILoomis on Facebook and Instagram. The club meets on the first and third Wednesday of the month from 5:30 — 7 p.m. in Loomis. The club is a 501(c)(3) organization.
PDF of Stop Trafficking flyer